So you have booked your cycling holiday……….but what bike will you be riding?
We have just invested in a brand new fleet of Sinch E-bikes!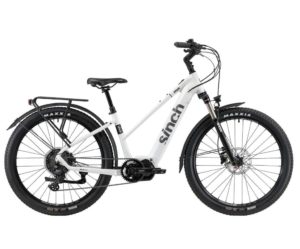 Why Sinch?
All-day Battery – Shimano STEPs E8035 504Wh Internal battery extends your riding range up to 100km depending on rider assist mode, the terrain and weather conditions
Powerful Pedal Assist –Enjoy pedal assist when the going gets tough
Safe Speed –Explore more with assisted speed up to 32 km/h.
Dependable Drivetrain –Quality Shimano components make for a reliable riding experience.
Reliable Safety –Safety is one of the most important considerations when choosing a bike. Sinch has you covered in that regard so you can enjoy whatever adventure that you choose to go on.
All-round Comfort –Every touch point including the suspension dropper seat post, the saddle and grips are designed with your comfort in mind.
Carrying Solutions –Sturdy built-in carrier rack to carry your panniers
Smooth Ride –80mm of air suspension travel is designed to make every ride comfortable.
Step Thru Style Available for ease of getting on and off – please let us know if you would prefer a Step Through Style. 
Our  E-bikes come in two Styles:
Step Through – No top bar makes for easy mounting & dismounting, and the more upright handlebars allow you to view your surroundings & is much nicer on your lower back! unbelievably comfortable
E-MTB – The more traditional mountain bike style with the top bar, leaning forward for more dynamic riding position.
And for those wishing for a man-powered, more traditional ride: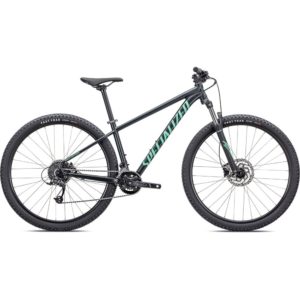 Specialized Rockhopper. A hard tail Mountain bike with 29inch wheels for a faster rolling ride.
If you are booking an experience with us, please let us know your hire bike preference*
*we will endeavour to make sure sure you get your preferred hire bike, however this will depend on availability 
All our bikes come with comfy gel seat covers, comfort grips, and panniers for your extra layers/ sunscreen & snacks along the trail.