We are so lucky in Central Otago to have a huge choice of exceptional cycle trails to choose from.
It can be quite daunting when planning your cycling holiday on choosing which trail to explore!
Choosing the best trail can depend on your groups dynamic & abilities.
See below our quick guide to help you decide which trail is suitable for you & your family.
Grade 1 – Easiest (152km)
New Zealand's original Great Ride – Suitable for all levels of riders from complete beginners to experienced cyclists. Steeped in history with stunning scenery & amazing food & accommodation along the way – Mostly flat with gentle climbs, this ride is suitable for all members of the family – A ride not to be missed!
Grade 2 to 3 – Easy to Intermediate (41km – 55km)
New Zealand's newest great ride! Opened May 2021 this trail has already surpassed visitor number expectations! Spectacular scenery, feats of engineering and steeped in history this trail is not to be missed. The first & last sections of this trail are Grade 1 & suitable for novice cyclists, however, the middle section is graded 2-3. This means that you do need to be an experienced cyclist with a good fitness level. There are narrow sections, blind corners and switchback climbs which do require a little bit of bike handling skills. This section has no road access, so once you are on this section, the only way off is to cycle/ walk out. If you are unsure of your skill level for this trail, please do give us a call and we can let you know if we think this trail is for you.
Grade 2 to 3 – Easy to Intermediate (34km cycling + 13km Jet Boat Transfer)
Get lost in the wilderness and journey alongside the mighty Clutha Mata-Au river.  A good pre-cursor to the Lake Dunstan trail, the Roxburgh Gorge Trail has some narrow sections, blind corners & steep climbs, so you will need to have some bike handling skills. An exciting and unique aspect of this trip, is the Jet Boat Transfer that links the first & last section of the trail. From the river you get to experience an informative & historical tour of the river.
The Clutha Gold Trail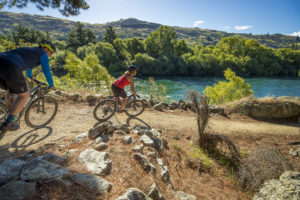 Grade 2 – Easy (74km)
Suitable for the whole family, The Clutha Gold Trail takes you on a journey of discovery within a landscape of Natural beauty.  Full of variety, the terrain is undulating, flat & meandering. Information panels along the way showcase a rich heritage & the pioneers who travelled this way.  This trail works best in conjunction with the Lake Dunstan & Roxburgh Gorge Trails to make a 3/4 day trip.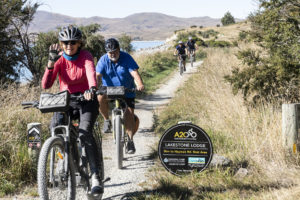 Grade 2 to 3 – Easy to Intermediate (371km)
This world famous trail is New Zealand's longest continuous cycle trail. Starting in the Southern Alps, it leads you on a wonderous journey through the south islands spectacular scenery and ends in the historic coastal town of Oamaru. Due to the length of this trail, it is better suited to older or very keen cyclists (not young children).
All these trails can be cycled individually or together to make the cycling of holiday of your dreams!