If you are anything like me, one of the most important aspects of a holiday has to be the food!
Luckily, There is a plethora of gastronomical options along the Central Otago Rail Trail.
Join us on a culinary journey that won't disappoint!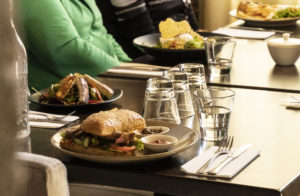 Fresh, clean flavours are the hallmark of cuisine at Olivers Restaurant, led by head chef James Waite, featuring superb local produce and where a "level of uniqueness" is providing diners with a memorable experience. During the day, sample home brewed beers and bakery produce under Otago's big open skies, in the evening, dine in front of the fire within ancient stone walls, or outside under the stars in summer. Olivers Bar, as well as selling our own Victoria Store Brewery label, has an extensive range of craft beers and local, national and international wines
Whether you're after a traditional pub meal, or something a little lighter, the extensive menu provides great options, prepared with fresh and local ingredients. Opening in 1886, the stone and mud brick tavern was once the focal point of the local community. Today, visitors from all over, stop by to visit the historic pub or to enjoy a drink in the large, sunny garden.
An award winning restaurant which serves seasonally inspired cuisine for lunch and dinner and great coffee and cake from 10am. Try matching food with local wines and craft beers. Old and new meet again in the spacious dining area, with the original doors up-cycled as counter-detailing. An open fireplace provides the perfect spot to enjoy a meal with friends.
Re-fuel with a delicious home made cake, pie or toasted sandwich, washed down with a delicious espresso coffee. Make sure to explore the infamous Hayes Engineering Works. The former home of Ernest Hayes a gifted inventor. From rabbit bait cutters to windmills, Hayes' labour-saving inventions quickly spread around the country and overseas. Perhaps his most well known tool is his refinement of J Reid's fencing wire strainer, perfected in 1924, it is still used around the world today!
A short detour from The Central Otago Rail Trail, Naseby is well worth a visit. This picturesque hamlet boasts a pub (The Royal Hotel), forest & the famous Maniototo Indoor Curling Ice Rink.  Fuel up with hearty home cooked pub food.
There is one thing for sure – You won't go hungry!